I don't know about you, but I'm ready for a vacation after quarantine. With the weather getting warmer and the risk of COVID decreasing, I want to get outdoors. The sun's UV rays are usually strongest in the spring and summer months, so it's important to have a sun hat to prevent skin cancer and wrinkles!
I've partnered up with San Diego Hat Company and rounded up 21 top rated sun hats for women. You may use my discount code: SISTERSGUIDE in which I will receive a small commisson at no additional cost to you.
1. Best Sun Hats for Travel:
Packable Sun Hats for Women that won't get crushed in your suitcase
Best Sun Hat for Hiking
Trendy Beach Hat
2. Sun Hat with Chin Strap
3. Quality Straw Sun Hat
4. Visor Sun Hats
5. Hats that protect your neck from the sun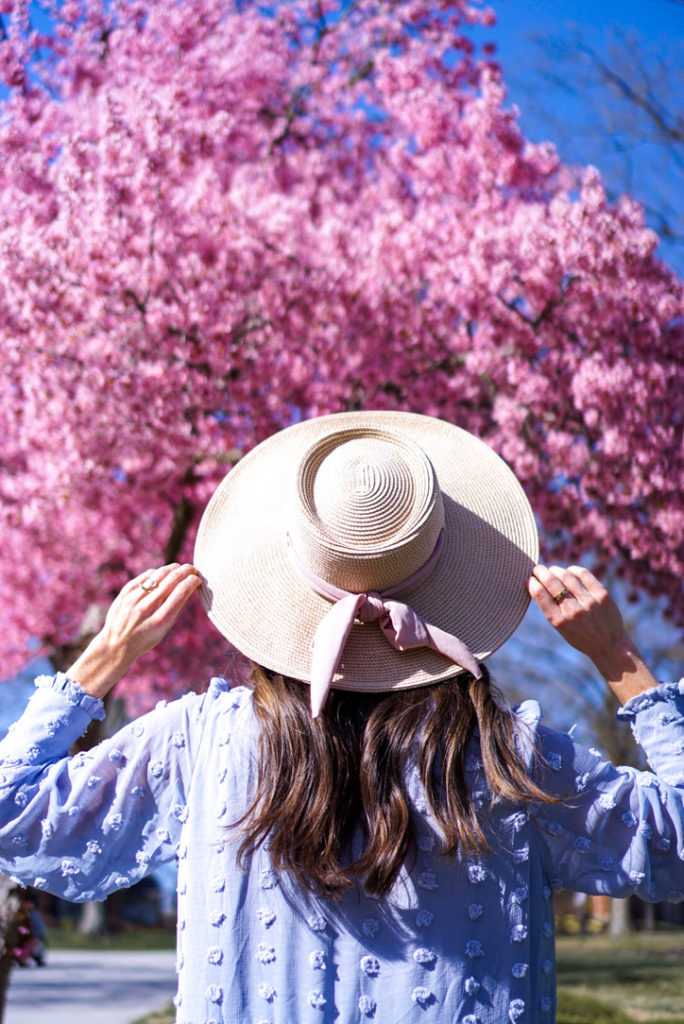 Best Sun Hats for Travel
Packable Sun Hats for Women that Won't get Crushed in your Suitcase
Headed to the beach or pool this Spring or Summer? These fashionable hats are perfect to pack in a suitcase, pool bag or purse! Their compact size and material makes packing easy, and you'll avoid a crushed or misshapen hat.  Some are water repellant; so the wave, splash, or rain won't ruin your day! Here are some stylish options that will make packing a breeze:
Rolled Up Visor (UBV002OSMNR)
Ultrabraid packable sun brim hat with faux leather snap tab closure (UBL6815OSNAT)
Women's Cotton Crochet Hat With A Large Brim (CHL1OSNAT)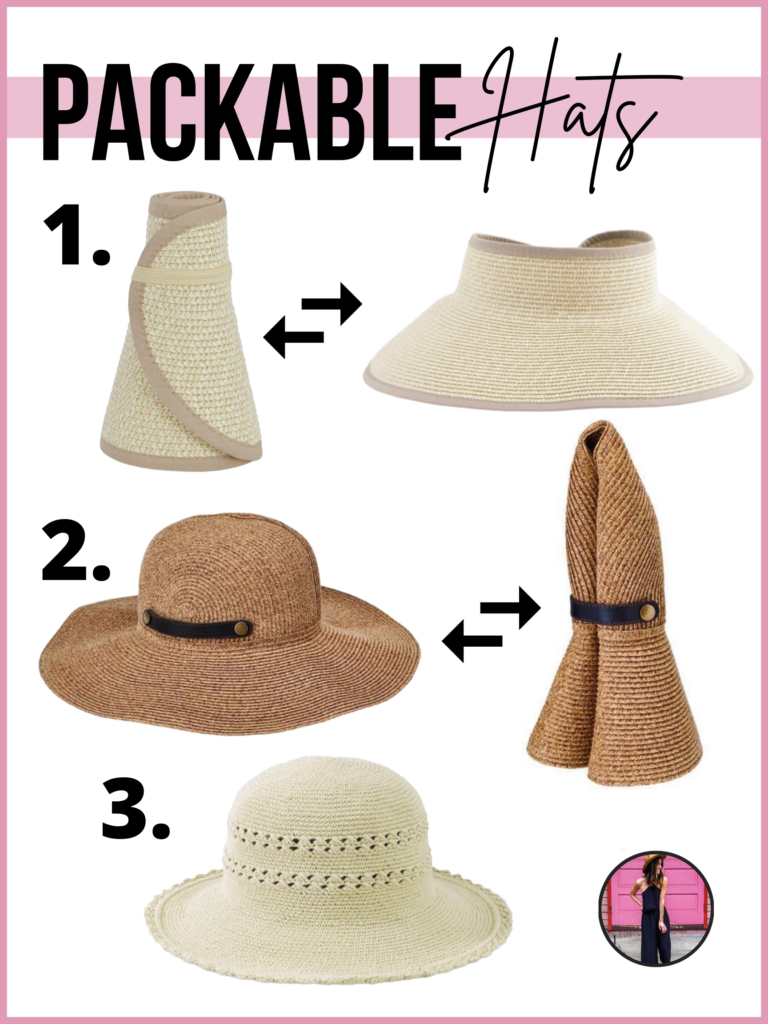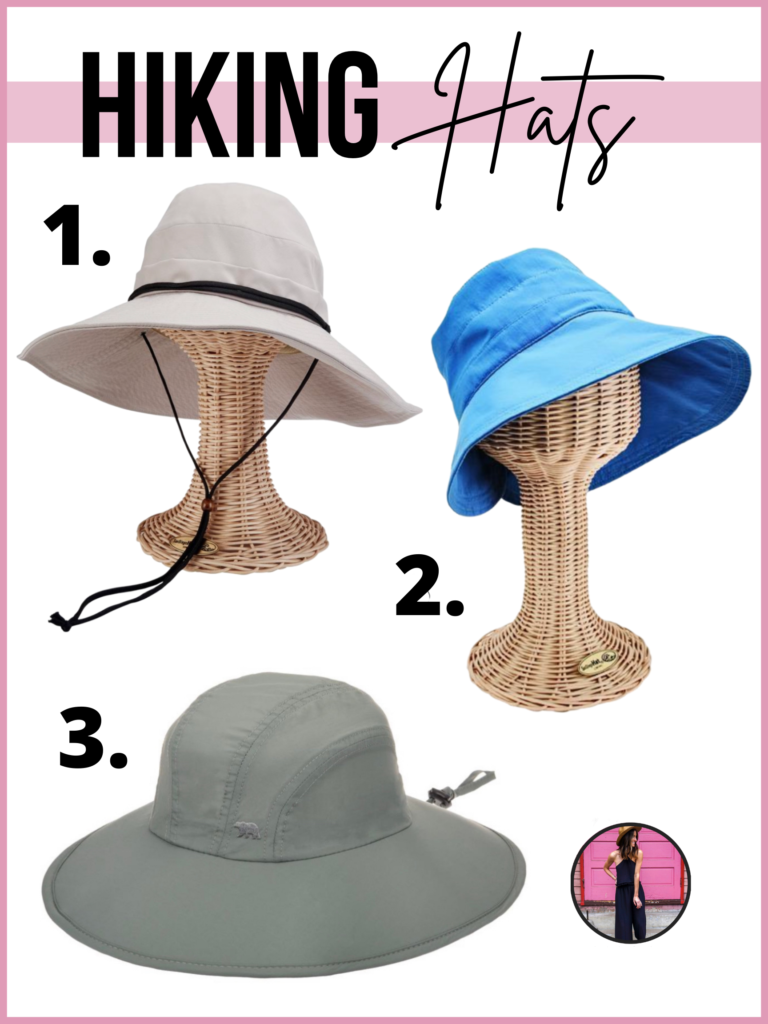 Best Sun Hat for Hiking
Hiking is one of my favorite past times; especially alongside a crystal clear lake, a red dusty desert or a golden leaved forest trail. While a trail can be peaceful and serene, sunburn and bug bites are not. To keep the sun and bugs off your face and neck, try a hat with a moisture wicking sweatband:
Women's Active Sun Brim Hat (CTH8021OSTAN)
Women's Wide Brim Bucket OCW4706OSBLU
Women's Wide Brim Sun Hat with Under Brim Print (OCW4707)OCW4707OSGRY
Trendy Beach Hats
One thing I never want to forget while packing for the beach is my hat! I feel like the only way I can see on a sunny day at the beach is a hat and sunglasses. Not even to mention the sun protection it provides. I remember one time getting so sunburned on my face, the spray of water from the shower felt like needles. I'll never make that mistake again! Next time, I'm packing one of these stylish beach hats:
Women's Boater W/ Scarf Bow (UBM4482)
Women's Soft Paperbraid Multi-Way Sun Hat with Oversized Brim (PBX5007)
Womens Seagrass Gambler With Chiffon Band (SGM504)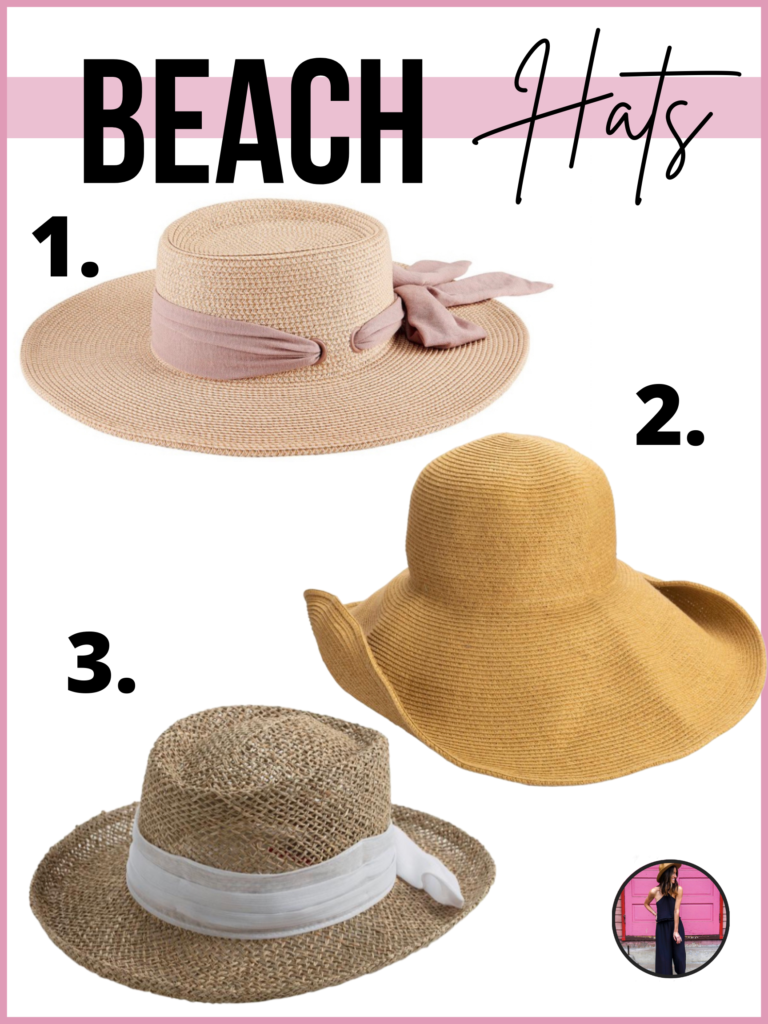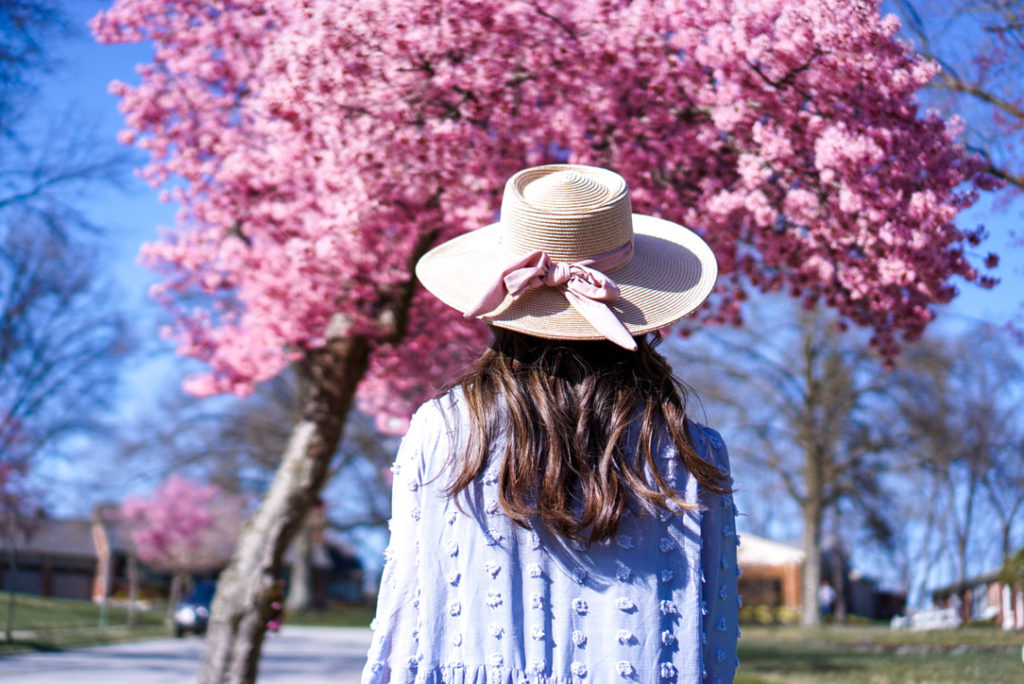 Sun Hat with Chin Strap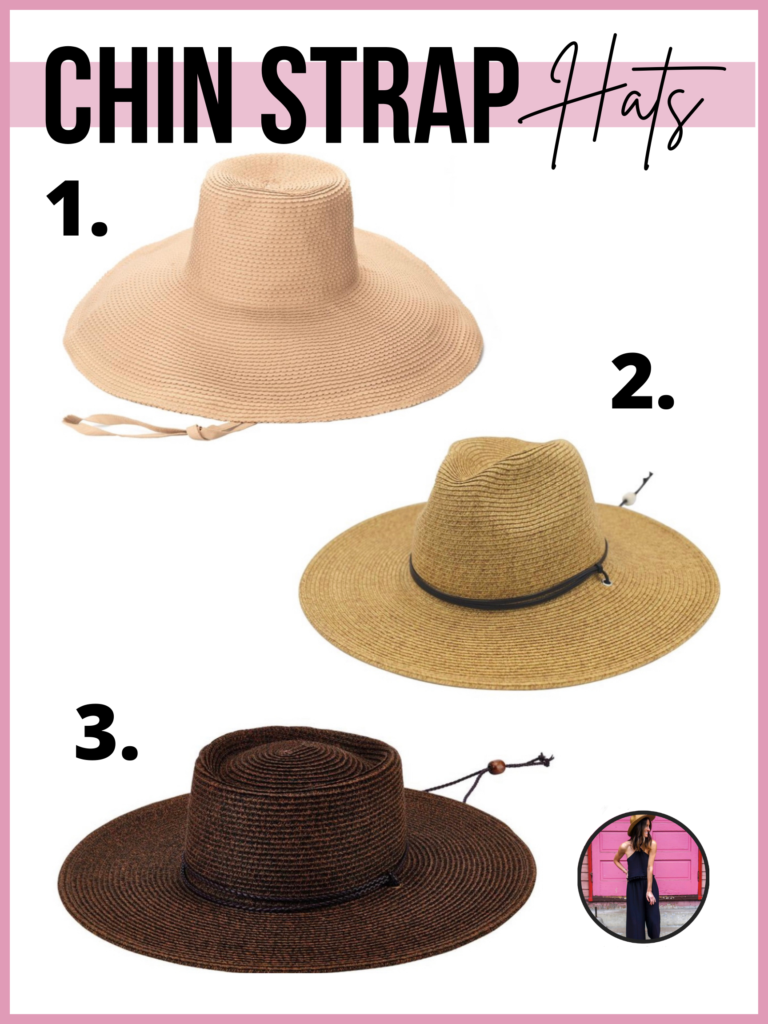 Nothing's worse than your hat flying off your head, especially on a windy day while trying to read a book on the beach, front porch, or dock. To avoid this happening, try a hat with an adjustable chin strap. Having a chin strap is convenient to be hands free (by tying around your neck and letting it drape down the back). Pick one of these adorable options to avoid losing your hat:
Women's Removable Chin Cord Ribbon Sun Hat (RBM5575OSBSH)
Women's Pinched Crown With Chin Cord (UBM420)
Womens Ultrabraid Sun Brim Chin Cord UBM4453OSBRN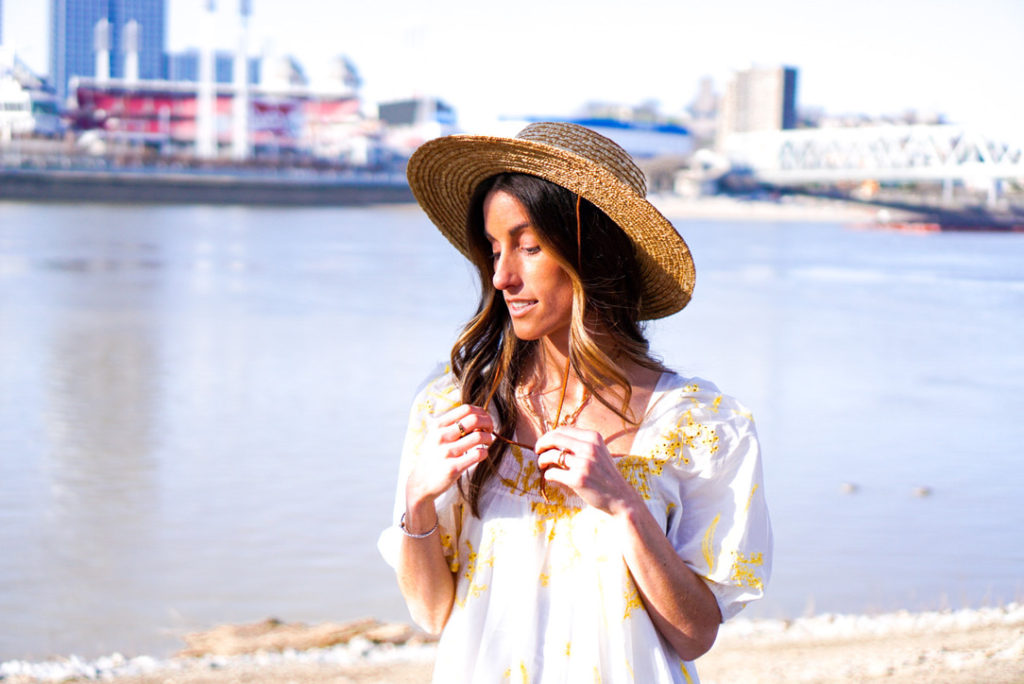 Quality Straw Sun Hat
Straw hats are one of the cutest ways to dress up an outfit. Whenever I style a spring or summer outfit and feel like something is missing, I reach for my straw hat. It's one of those accessories that match most any outfit. One of my go-to outfits is a knotted t-shirt, mom jeans and straw hat! My favorite is a wide brim hat with a black or leather band, but try these options:
Women's Wheat Straw Wide Brim Boater (WSH1109)
Women's palm straw fedora with leather trim (MEF1015)
Women's wheat straw boater with faux leather band (WSH1203)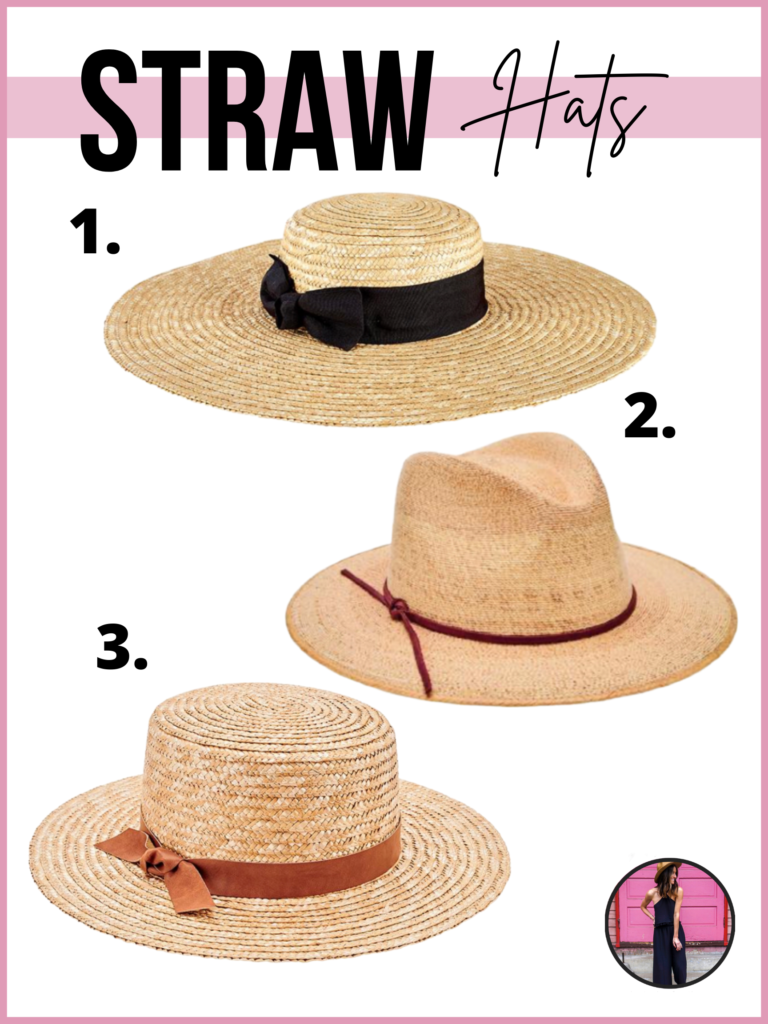 Visor Sun Hats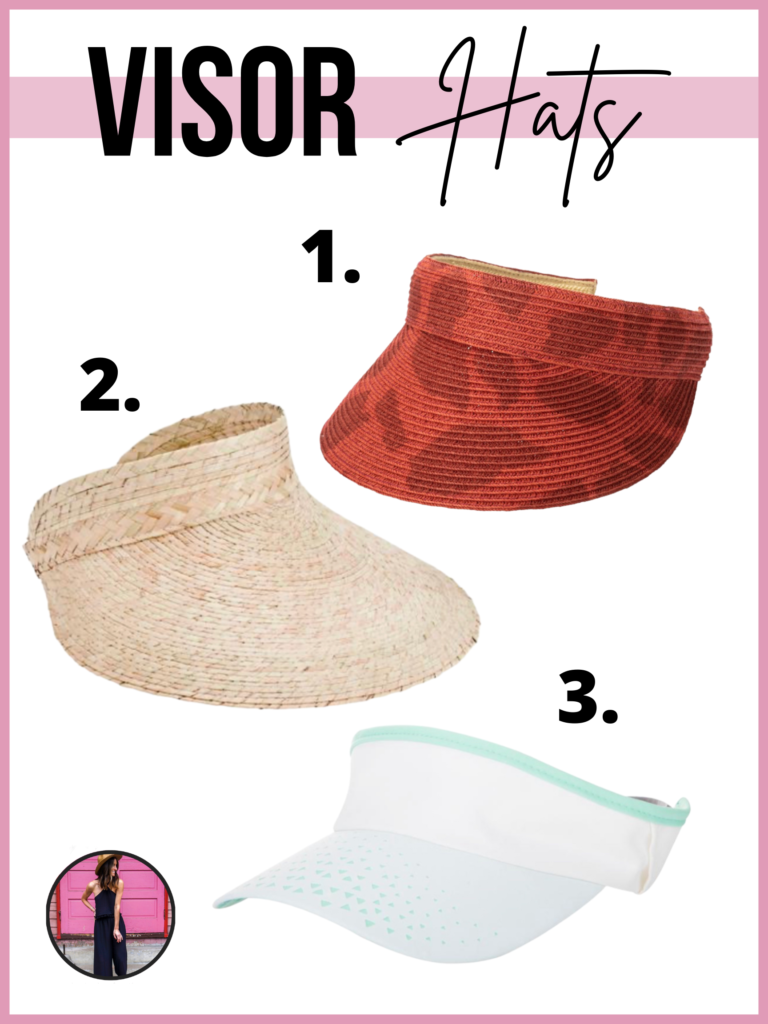 Don't underestimate the power of a good visor. This type of hat keeps your head cool, especially during outdoor activities (tennis, golf, running, etc). It allows you to keep your hair off your neck on a hot humid day. It's adjustable, which makes it a great option if you have a small or large head. Some have a roll up feature which makes packing simple! The visor is a classic and will come back year to year:
Women's Ultrabraid Animal Pattern Clip On Visor (UBV057)
Artisan Made Palm Straw Braid Wide Brim Visor (MEV1009)
Women's Laser Cut Visor with Sizer and Sweatband (OCW4714)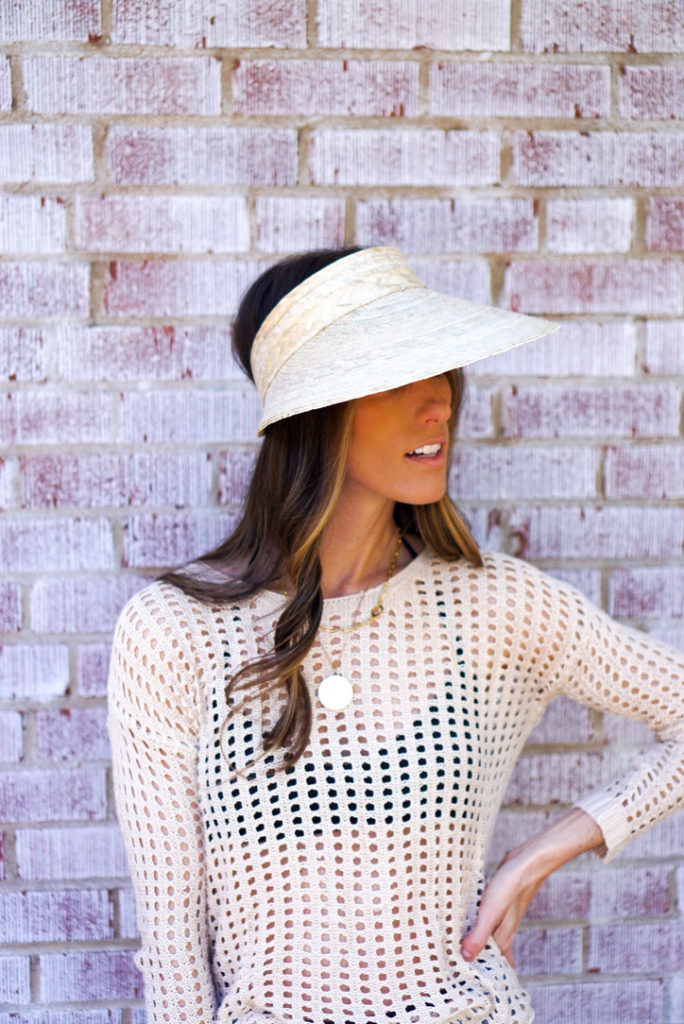 Hats that Protect your Neck from the Sun
How many times have you gotten a sunburn on your neck? It's one of those easily missed places we forget to sunscreen – at least for me! No matter what activity you're doing these options will protect your skin from damaging sun rays:
Women's Wheat Straw Hat With Oversized Wide Brim (WSH1219)
Women's Woven Paper Wide Brim Fedora With Grosgrain (PBF7366)
Women's Ultrabraid Striped Bell Sun Hat (UBL6831)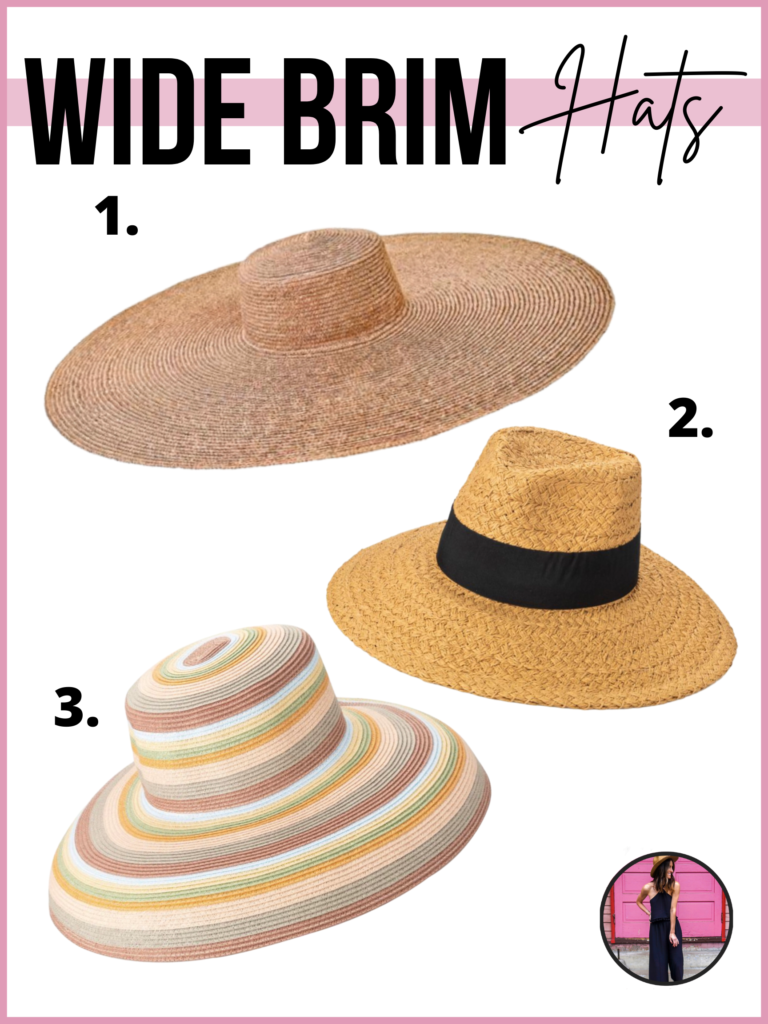 Don't see a hat option you like? San Diego Hat Company has so many more high quality hat options, you can't choose wrong! Many of these hats can be worn to many different occasions. Where is your next vacation planned? What hat will you choose? Comment below!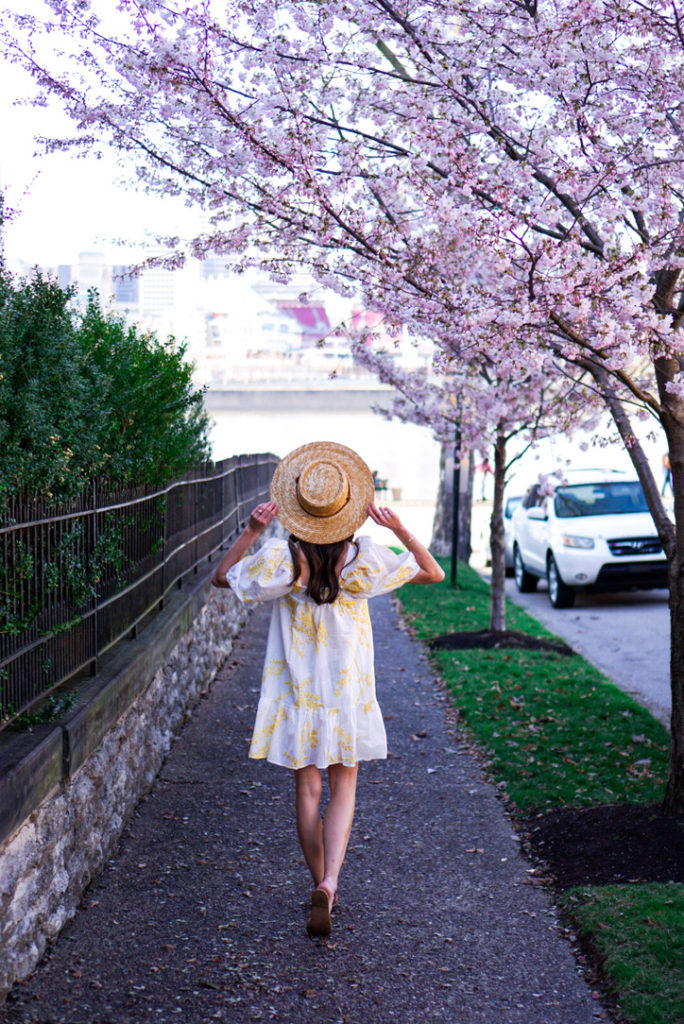 xo Abby