Tired of a boring sweater? Shackets are a great alternative, and with them coming back year to year, I'd recommend investing in a few! I'm almost embarrassed to say that my closet is slowly starting to be taken over by them (and I thought my sweaters were a problem, eek!). But who can say no when they come in so many different patterns and styles. Not to mention they're so comfy and cozy! Here is your ultimate style guide to shackets – from 'what the heck are they', to how to style these bad boys.
To shop this post: You can shop any of my looks by clicking the picture or carousel. I may receive a small commission for purchases made through these links. Thank you for supporting my small business!
1. What is a Shacket?
2.What Do You Wear With a Shacket?
3. Shacket Outfit Ideas
4. How to Style a Long Shacket
5. Plaid Shacket
6. Shacket and Dress Combo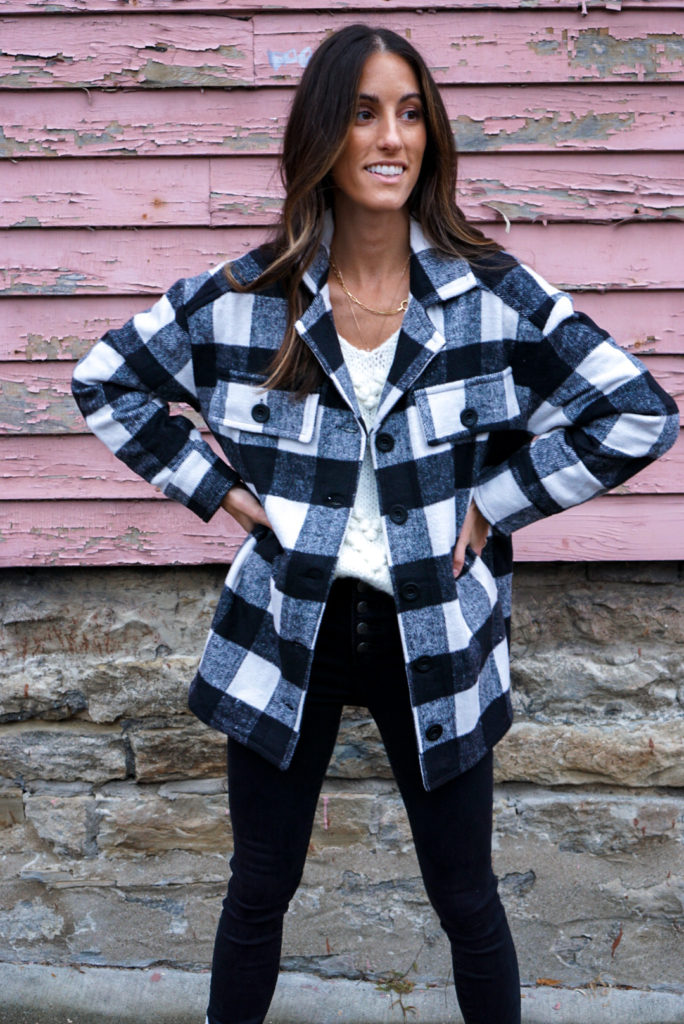 What is a Shacket?
Let's not make it more difficult than it needs to be. A shacket is simply a "shirt jacket". Combine the two words and you get "shacket". Genius right? I think of it as a hybrid between a flannel shirt and lightweight jacket. I'm not sure how long ago these came about, however this little hybrid is here to stay. I've seen it come back year after year so I'd suggest investing in one or two.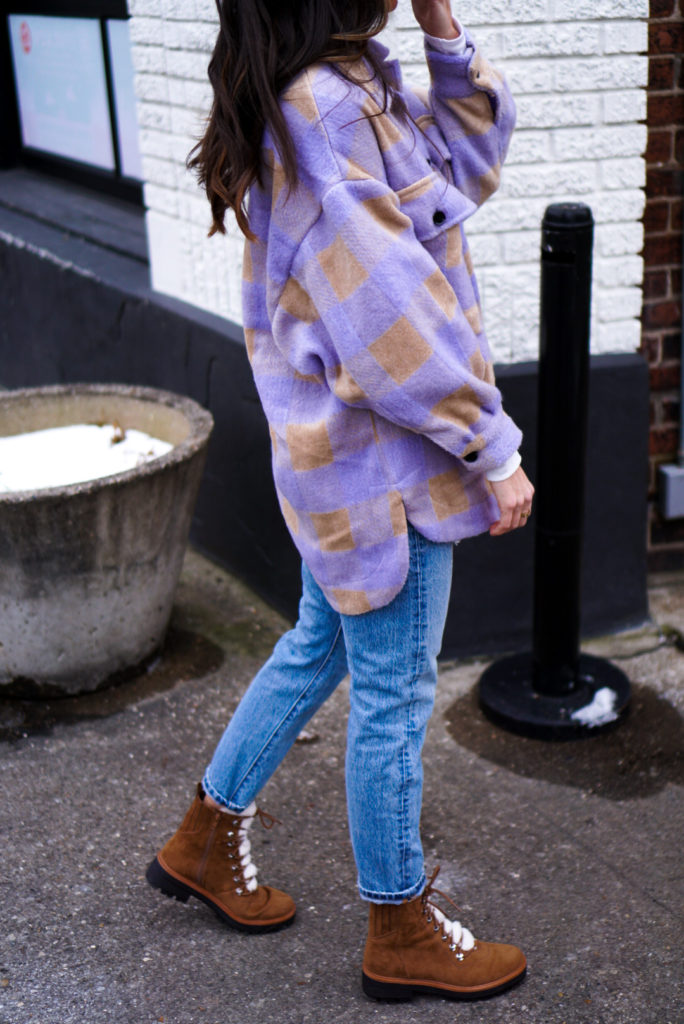 What Do You Wear With a Shacket?
Shackets aren't as tricky as some make them out to be. I think of them as a heavy flannel and they're meant to be layered. Let' break it down step by step.
Step one: Pick a base or bottom (pants, jeans, biker shorts, faux leather leggings, shirt dress, midi skirt)
Step two: Choose your first layer (bodysuit, waffle knit shirt, lace tank, body contouring t-shirt or turtleneck, etc).

Pro-tip: If your shacket has a pattern choose a neutral or solid color base or layer.

Step three: Layer Shacket on Top

Pro-tip: Layer additional clothes underneath as needed given the temperature

Step four: Add shoes. These can be sherpa boots, sneakers, booties, knee high boots. Don't be afraid to dress up or down.
Step Five (optional): Add hat. It can be a ballcap, wide brim hat, cabbie, or beanie depending on which look you're going for.

Shacket Outfit Ideas
Need a shacket outfit idea? I've created a video with 9 different shacket outfit ideas to choose from using jeans, leggings, faux leather leggings, a midi dress, skirt and more. You can even shop all these looks below.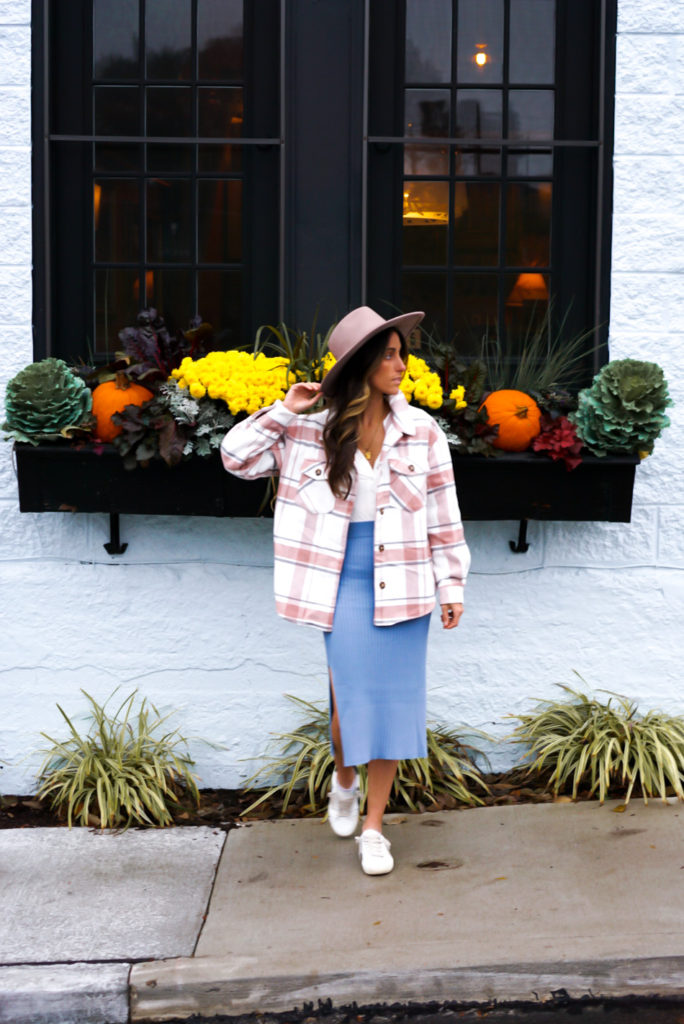 How to Style a Long Shacket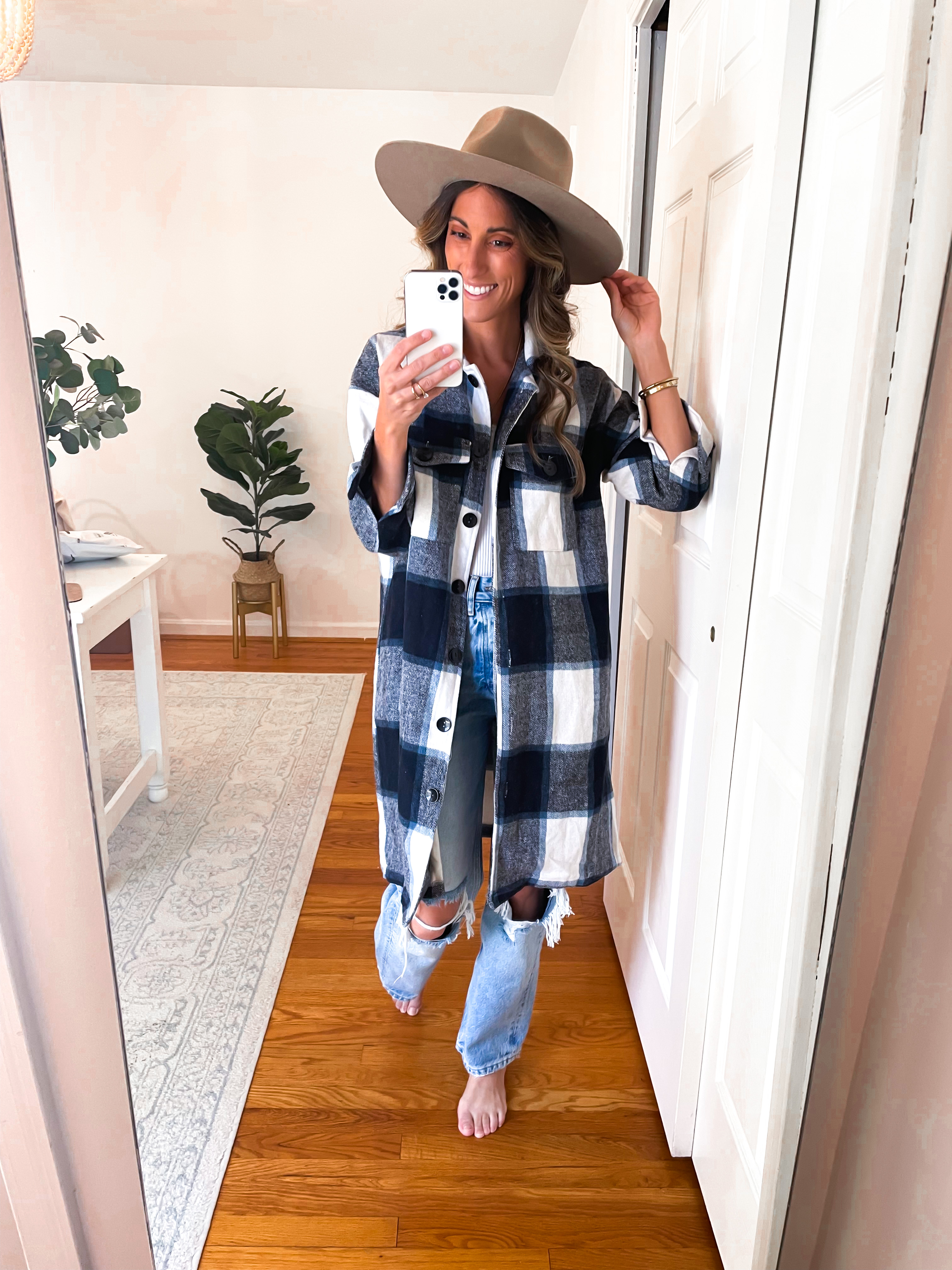 Don't let the length of this shacket scare you! It's actually a really good option if you're feeling lazy. Throw on some jeans, a white knotted t-shirt or lacey tank and you're good to go. You can also style a long shacket with faux leather leggings, sneakers, and plain shirt as well. I had fun styling this piece by adding a stiff wide brim hat.

Plaid Shacket
When I think of a shacket, one of the first things that comes to mind is the pattern: plaid. Plaid is a great pattern for fall and winter. There are many different types of plaid (check, gingham, tattersall, houndstooth, tartan, glen, etc) but sticking with a neutral color option will extend the use of your shacket. But hey, if bright colors are your thing: you do you! Below are some great plaid shacket options!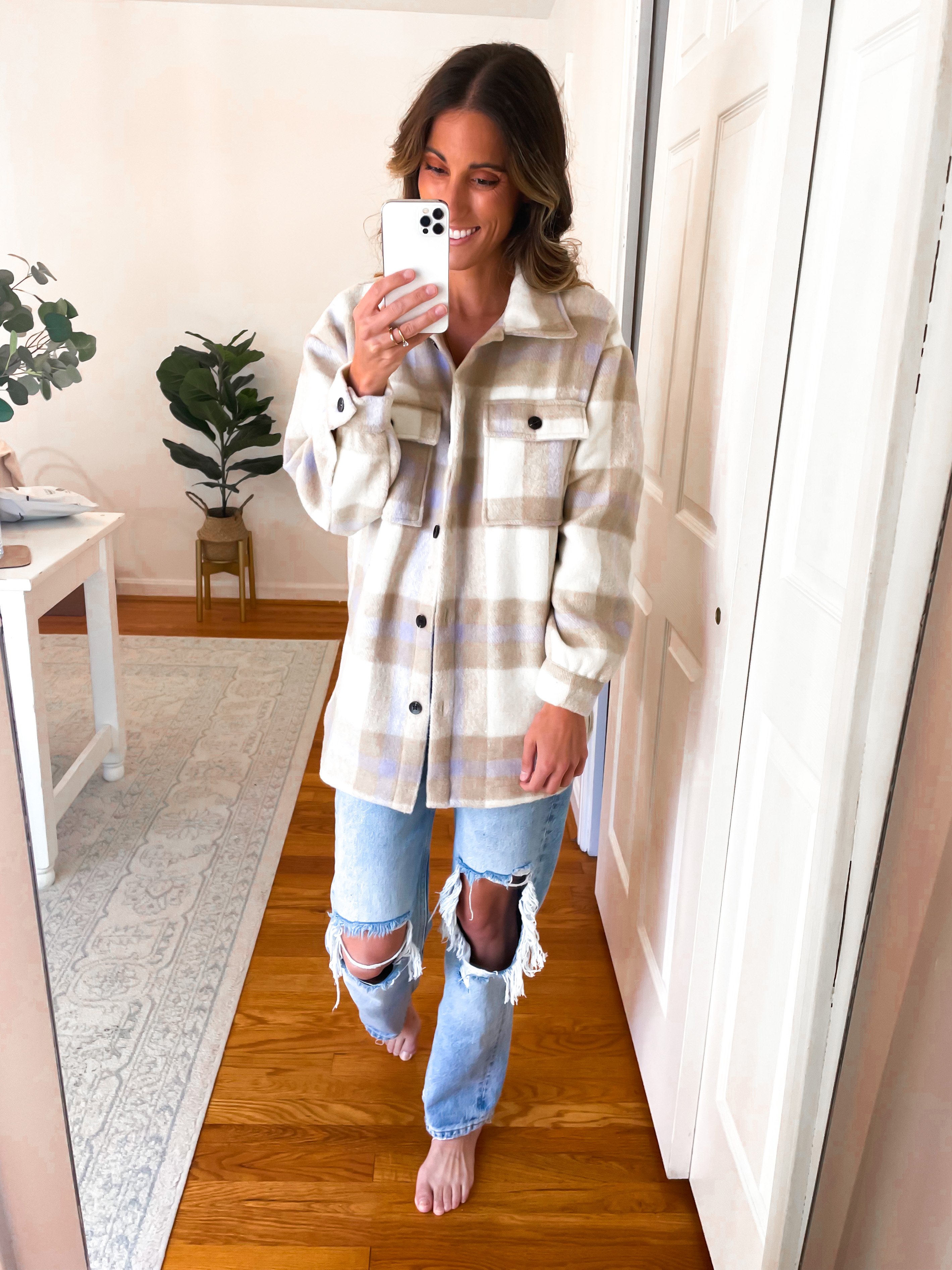 Shacket and Dress Combo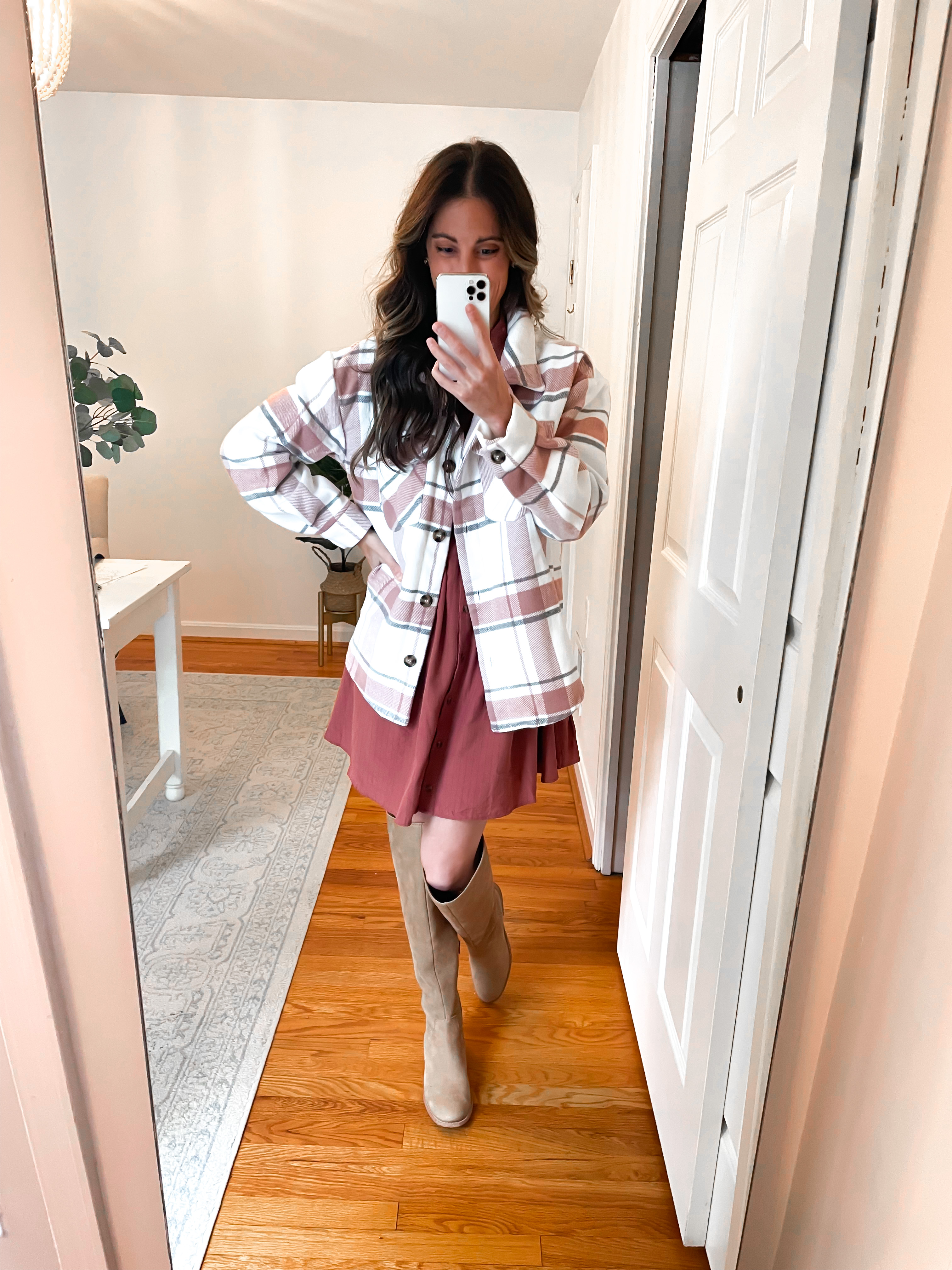 A shacket and dress combo is one not to be overlooked! By layering a shacket over top of a dress you can really dress it down. Try layering over a shirt dress. I'm also a fan of pairing a tighter fitting dress or skirt with a looser fitting item (like a shacket). Try pairing a body contouring dress or skirt with an oversized shacket. Add a hat and boots for extra style!

Now you're a shacket expert! At the end of the day, style is all about feeling confident in what you're wearing. Now that you have some inspiration, feel confident that whatever shoes you pick, you're going to look GREAT! Want more styling ideas? What would you like to see next? Comment below!
xo Abby